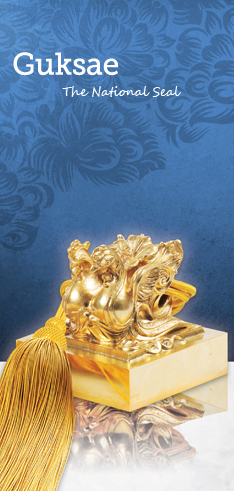 Significance
The national seal has been called by various names-sae, bo, eobo, eosae, oksae, and guksae. Sae and bo are generic terms for national seals; eobo and eosae refer to the seal of the king engraved with his/her pen name and eulogistic title; oksae refer to a seal made of jade.
The modern term for the national seal is Guksae. As an official seal for state affairs and an important national symbol, the Guksae is stamped on important state documents. It represents national authority, and reflects the nation's power and culture, and the characteristics of the era in which it is used. Unlike the West, where such seals are usually embossed, in Eastern countries, a national seal is an imprint.
The Fifth Guksae
The creation of the Fifth Guksae currently in use was preceded by an extensive opinion-gathering process, which involved expert discussions, opinion surveys, and public hearings beginning in September 2010. Based on the views gathered, a Guksae Creation Committee comprising experts from various fields was set up in November 2010 and the production of a new national seal was completed in September 2011. The seal has been in use since October 25, 2011.
The Fifth Guksae is square, measuring 10.4 centimeters on all sides, and weighs 3.38 kilograms. Compared to previous national seals, the new one was enlarged for greater dignity and authority. The seal, which is hollow inside, was produced in such a way that the seal's face and grip are constructed as one piece, rather than separately executed. It is made of gold, silver, copper, zinc, and iridium.
The use of iridium, which is a rare metal, makes the alloy more tightly integrated, thus preventing fissures.
The seal is engraved in the hunminjeongeum style font with the letters '대한민국(Daehanminguk: Republic of Korea)'. The handle of the seal features a pair of seated phoenix with dynamically sculpted wings and tail feathers. A fully open rose of Sharon rests on their backs.
Usage
Usage (Article 6, Regulations on the National Seal)
Preamble to a promulgation announcing a revision to the Constitution
Certificates of appointment for government officials bestowed directly by the President, appointment certificates for government officials, the presentation of which the President has delegated to the relevant Minister on his/her behalf, in accordance with Article 5-1 of the Official Appointment Regulations
Certificates of national decoration in accordance with Article 9 and Article 19 of the Awards and Decorations Act and Article 17 of the Enforcement Decree of said act
Ratification instruments in the name of the President or other diplomatic documents that require the affixed seal, by order of the Ministry of Foreign Affairs
Other documents on which the affixing of the national seal is deemed necessary by the Minister of Security and Public Administration
Development of Korea's National Seal
Development of Korea's National Seal
Classification
First Guksae
Second Guksae
Third Guksae
Fourth Guksae
Fifth Guksae
Perioded used
May 5, 1949 -
Dec. 31, 1962
Jan. 1, 1963 -
Jan. 31, 1999
Feb. 1, 1999 -
Feb. 21, 2008,
Nov.30, 2010 -
Oct. 24, 2011
Feb. 22, 2008 -
Nov. 29, 2010
Oct.25, 2011 -
Impression
Size
Square(6.06x6.06cm)
Square(7x7cm)
Square(10.1x10.1cm)
Square(9.9x9.9cm)
Square(10.4x10.4cm)
Material and weight
Regulation on the National Seal
(Presidential Decree No. 83)
Regulation on the National Seal
(Cabinet Order No. 643)
Regulation on the National Seal
(Presidential Decree No. 16096)
Regulation on the National Seal
(Presidential Decree No. 20641)
Regulation on the National Seal
(Presidential Decree No. 23236)
Handle design
Unknown
Turtle

Phoenix

Phoenix

Phoenix