Korea ranked top in both E-Participation Index (EPI) and E-Government Development Index (EGDI) of the United Nations e-Government Survey in 2010. Since then, Korea has been a global e-government leader over the past decade, ranking first in EPI and third in EGDI of the UN e-Government Survey in 2018. This marvelous achievement, however, did not happen overnight. The Korean e-Government has been evolved through tireless efforts to make people's lives more convenient and facilitate public participation in the policymaking process. Moon Jae-in administration's key public participation policies, "Gwanghwamoon 1st Street" and "Blue House Online Petition System," allow citizens to make policy proposals online and then the government translates the proposals into actual policies. In addition, the government has to answer the questions raised by citizens. And, a public service portal called "Government 24" provides tailored public services to citizens 24 hours a day. The Korean government would like to share experience and know-how on building its globally recognized e-Government with the international community and realize digital innovation by incorporating new technologies of the 4th Industrial Revolution into digital government. In doing so, Korea will contribute to promoting constant innovation of government and society.
Government at Your Service Anywhere Anytime
Official Portal "GOV.KR" : This portal provides Korean Government Services, Civil petition services, Policy and Information.

Korean Government Services : Korean Government Services consolidates 70,000 different types of government services available to the public and classifies them into 12 categories. Korean Government Services provides customized services in a variety of ways that are tailored to each individual citizen's life.
Minwon Services : You can access information on the competent authorities, required documents, fees, processing deadlines, related laws and regulations for over 5,000 types of Civil petition online anytime, anywhere without physically visiting government agencies. Also, more than 300 of these services accept applications through mobile platforms.
Policy·Information : You can access important news and policy information from government institutions including the central government, local governments, public institutions, in addition to policy, data, research reports, laws and statistical information.

Smart Office : Cloud-based business process system made Smart Office possible, helping civil servants communicate and work together across organizational boundaries without being constrained by time and space.
Integrated Information / Data Management
Information Sharing Portal : This portal contains information required to provide people with public services. Upon request for public services, civil servants can check out necessary information themselves without requesting people to submit it.
National Information Resources Service (NIRS) : The NIRS was established to integrate and manage government data and information that were once managed separately by individual government departments.
Korea's Internationally Renowned e-Government Systems
Immigration e-clearance system, e-tax administration system, business process management system for government, e-patent administration system, postal logistics information system, national disaster management information system, etc.
Korea's E-Gov. Development and success factors.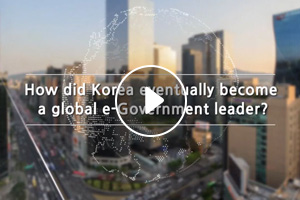 1. Korea's National Development and e-Government
2. Evaluation on Korea's e-Government
3. Korea's e-Government Development
4. Success Factors for Korea's e-Government
Koreas E-government Best Practices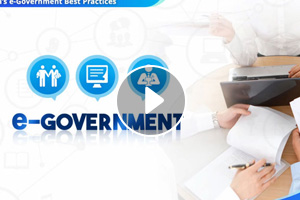 1. Effects of Introducing E-government
2. Cases of enhanced efficiency of public administration
3. Cases of enhanced transparency of public administration
4. Cases of improved services for citizens